The Most Comprehensive BOSS EQ Pedal Ever
With top-notch sound quality and three different frequency range settings, the BOSS EQ-200 is possibly the most versatile graphic equalizer pedal ever devised for guitar and bass. And thanks to its stereo I/O, it could be a big benefit to your keyboard rig too. The EQ-200 actually offers dual EQs that can be configured for stereo, series, or parallel operation, and an insert function even allows you to add external effects pedals with pre- and/or post-equalization. Each band offers 15dB of boost or cut, and thanks to its global level control, you can even tailor the BOSS EQ-200 graphic EQ pedal to be your go-to boost pedal as well.
Four memory slots for your custom EQ profiles
Guitarists and bassists agree that one of the best uses for a graphic EQ pedal is to solve sonic issues pertaining to specific rooms, amplifiers, and instruments. Thankfully, the BOSS EQ-200 offers four memory slots to save your most-used settings, whether it's dialing back a peaky midrange frequency for your Tele, cutting low-end rumble and mud from your five-string bass, or helping to balance your favorite amplifier for the small club you play every month.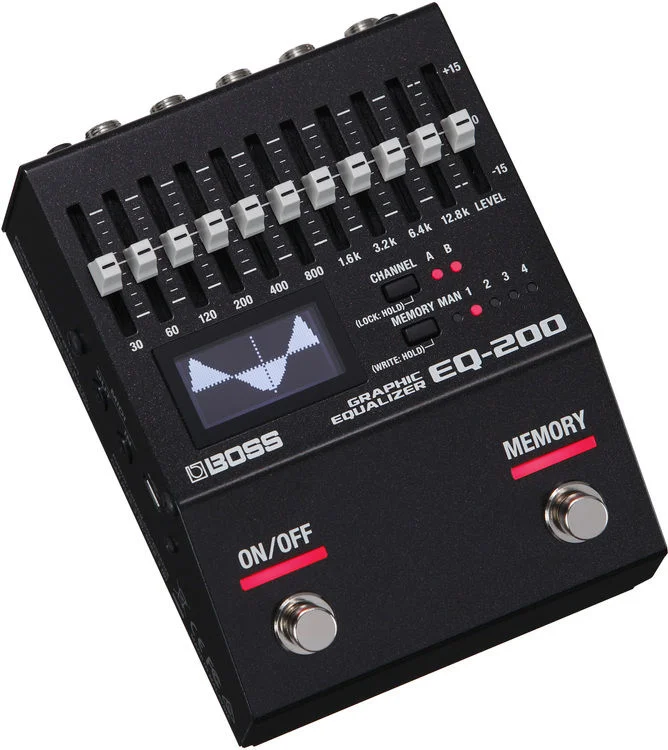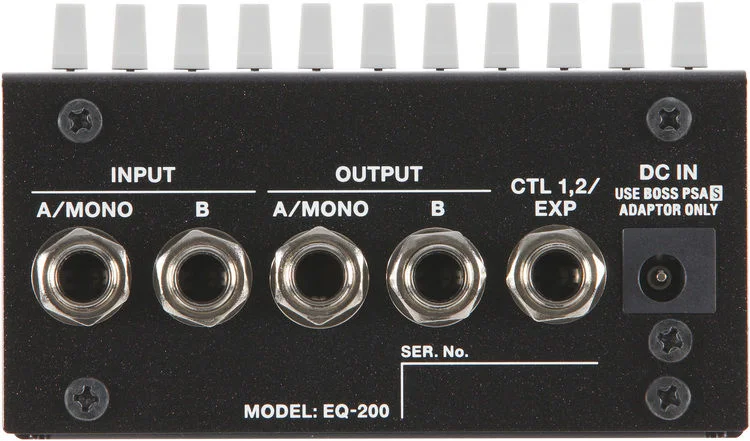 Dual EQs with stereo, series, or parallel routing modes
The EQ-200 pedal is actually running two 10-band graphic EQs simultaneously, and you can choose to utilize them in series, in parallel, or in stereo. Musicians running dual-amplifier rigs will definitely appreciate the stereo functionality, allowing you to fine-tune your signal for each individual amplifier.
Adjustable frequency settings accommodate guitars, basses, and more
Instead of sticking you with set frequency values, the EQ-200 pedal allows you to select from three different frequency ranges. Select from 30Hz to 12.8kHz, 32Hz to 16kHz, or 28Hz to 14kHz, depending on your instrument and the frequencies you need to focus on. Whether you're playing acoustic guitar, electric guitar, bass, keys, or all of them throughout the same set, the BOSS EQ-200 graphic EQ pedal has you covered.